Sunrise and fun on Parksville beach, BC
September 14th 2018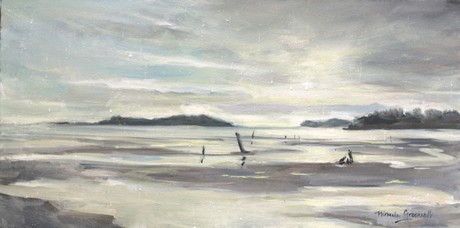 Acrylic
24''x12'
sold
In Parksville, BC the tide goes out for an astounding kilometre every day and comes back in over the hot sand in the summer.   It is so great for swimming or a great walk when the tide is out.
I wanted to capture this feeling of the fresh air, sunshine and reflecting pools in the painting. Despite the rainclouds moving in the family on the beach were having fun building their castle.
The young family on the beach recognized themselves in the painting and bought it on the spot, fond memories to take back to Alberta!