overview
Please have a look through the events to the right. The months' events are listed in the right hand column. Use the "previous" and "next" buttons to see the shows in which I"m participating.

Click on the event listed for more details of that event.
calendar
Victoria Sketch Club Annual Show and Sale 2011
Mar 22, 2011 - Mar 27, 2011
Glenlyon School Gym, Beach Drive, Victoria BC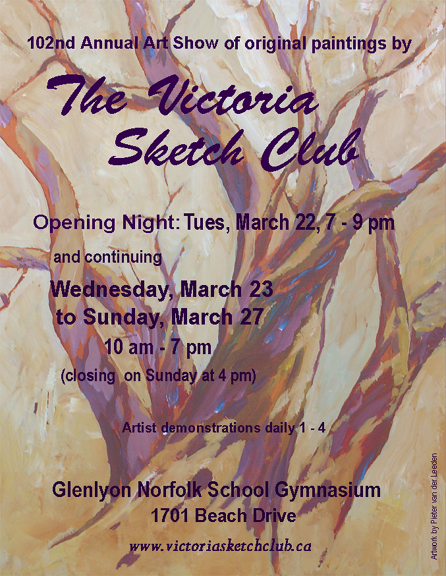 The Victoria Sketch Club invites you and your friends to attend the 102nd Annual Art Show of original paintings. Show opens Tues, Mar 22nd continues daily from Wed. March 23rd to Sun. March 27th 10am to 7pm, closing on Sunday at 4pm.
Demonstrations daily from 1- 4 pm
www.victoriasketchclub.ca
250 385 0805
or
250 477 3549
Annual show and sale of original paintings by members of the Victoria Sketch club, celebrating 102 years of painting and drawing in all media!
Mar 19, 2019 10:00 am - Mar 24, 2019 4:00 am

Location:

1701 Beach Drive, Victoria BC

Over one hundred pieces of original art by the members of the Victoria Sketch club will be on on display at Glenlyon School 1701 Beach Drive in Oak Bay, March 19th - 24th. I will have 4 new paintings in the show.